Wicked Warrior Camp - April 19th
United's - WICKED WARRIOR CAMP is back by popular demand and we are doing another session of it on early release day Wednesday, April 19th (2 sessions) either 1:30 - 3:30 p.m. or 4-6 p.m. Do you have a Warrior in your house that needs to be challenged?? We are recruiting kids 5-12 years old who are ready for a strength and endurance challenge with our first-ever Wicked Warrior Camp. Learn moves like a Ninja warrior, test your agility and balance all while moving through our warrior obstacle course and have an awesome experience while pushing your athleticism! A few of the obstacles include a "Incline Pursuit", "Hang Drill", "Ring of Fire" and "Rope Glider" not to mention many more. Register online @ www.unitedallstarscheer.com under the "Services" tab. $20 per child - Register each child separately!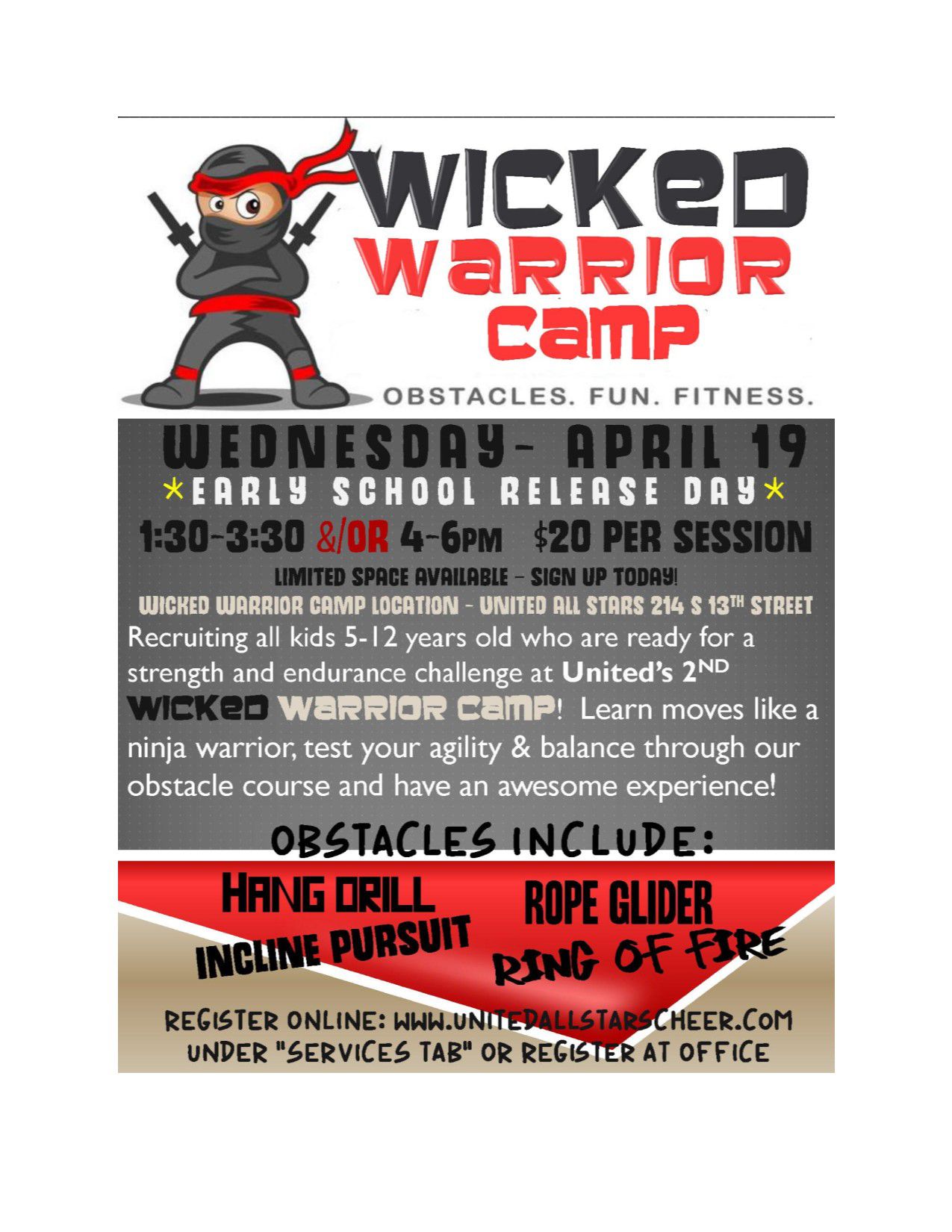 Wicked Warrior Camp - Early Out Day
Registration 2017
Sign Up For A Free Class!
Welcome to United All Stars!
United All Stars is the home to over 200 competitive, all star prep, recreational cheer, and tumbling athletes along with now offering DANCE! The program is owned and operated by Mindy DeBaun and staffed by her husband Chuck, daughters Amanda and Jacey and some of the best coaches in Iowa.
At UAS, we pride ourselves on obtaining the highest level of training and certifications. All of our coaches are educated and credentialed by the United States All Star Federation. United All Stars is for the serious student who is committed to being the best AND also for the student who wants to just have fun with cheer, dance and tumbling! We are Fort Dodge's premier cheer, dance and tumbling All Star Gym.